Goldberg kicks off RAW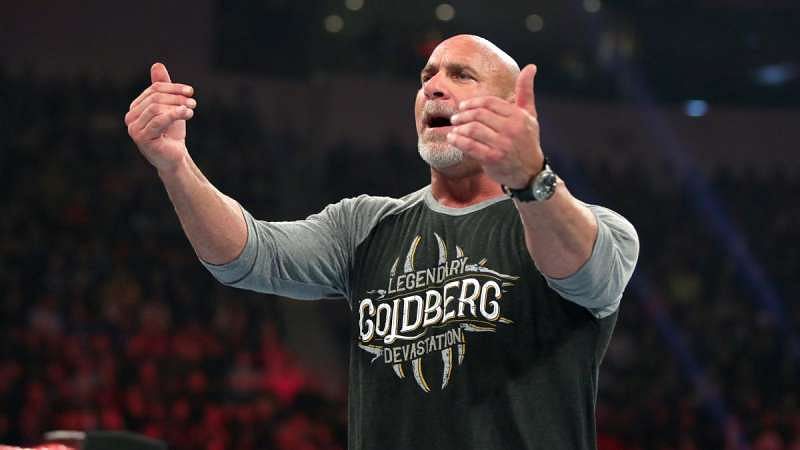 RAW kicks off with Goldberg. The crowd greeted Goldberg with a huge pop as he headed to the ring in trademark fashion. Goldberg came out and said he was tired of Owens always running his mouth. He then went on to say he was in a good mood because he would win the WWE Universal Championship on Sunday before heading to 'Mania and wrestling Brock Lesnar at which point the fans booed.
Goldberg added that he had made a promise to his wife and son that he would bring home the title before saying he'd see Owens on Sunday. As Goldberg motioned to leave, Kevin Owens' music hit. Owens said that he made a promise to take WWE by the scruff of the neck and went on to say that he did that by beating Cena, Styles and Reigns, among others. He mentioned Jericho's name too but then said that he didn't even matter. Owens then called the crowd sheep and amidst boos, he told Goldberg 'He's next' in the evolution of Kevin Owens.
Owens finished off by telling Goldberg that this Sunday, the Goldberg chants would die
Goldberg and Kevin Owens face-off, Roman and Strowman break a part of the ring and more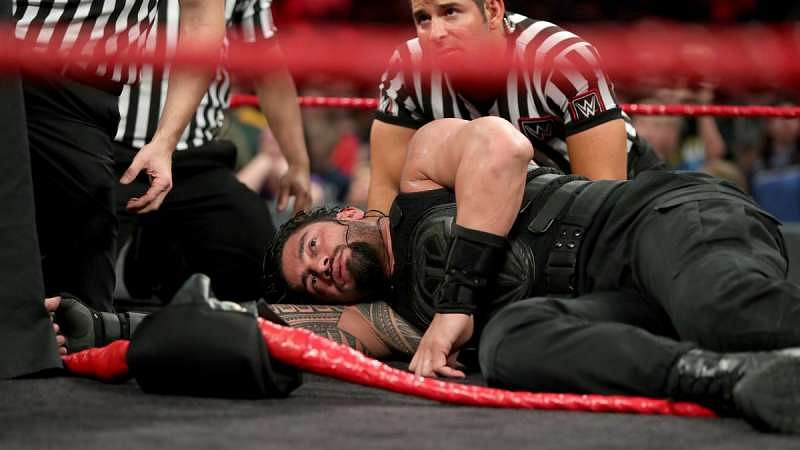 Kevin Owens confronted Goldberg to kick off RAW
Raw took place in Green Bay, Wisconsin tonight. The packed go-home show to Fastlane featured the likes of Kevin Owens, Goldberg, Samoa Joe and Seth Rollins. What did Goldberg have to say to Kevin Owens? Will Seth Rollins make Wrestlemania? Let's get straight to the results and find out.
Samoa Joe confronts Cesaro and Sheamus
Sheamus and Cesaro are backstage when Samoa Joe showed up. Joe said it was good to see Cesaro but he was still the same and still chasing that 'brass ring'. Cesaro laughed it off and asked Joe what it was like carrying Triple H's jock strap. An enraged Joe threatened Cesaro before walking away to which Sheamus grunted that he wanted to kick Joe's head off. Cesaro's reply was that he would handle the situation.
Stephanie McMahon gets brutally honest with Mick Foley
We then switched to another backstage segment, this time with Stephanie McMahon telling Mick Foley that he's been getting weaker ever since her husband ended his career. She goes on to say that the man who could stand up to anything or anyone, can't stand anymore at all.
Titus O' Neil vs Sheamus
We got a backstage vignette before the match. Titus told Sheamus that he would need a new tag partner after Joe was done with Cesaro. Sheamus didn't take to this kindly and sent Titus crashing headfirst into a table laden with food, which led to this match.
Titus hit Sheamus with a boot as Sheamus was climbing into the ring. Titus then slammed Sheamus against the barricade before the action went back inside the ring. Titus hit Sheamus with knees in the corner before the bell finally rang. The referee pulled Titus away when he wouldn't stop attacking Sheamus even though he was near the ropes. When a disgruntled Titus turned back around, Sheamus hit him with the Brogue Kick and pinned him immediately.
Sheamus def. Titus O' Neil
Seth Rollins addresses the WWE Universe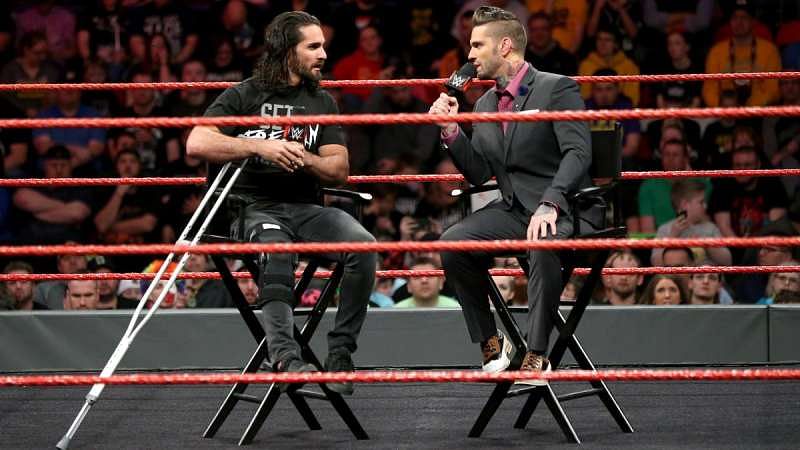 Seth Rollins comes out in crutches and in a knee brace as he hobbles to the ring. Graves starts off asking Seth how his knee feels and Rollins replied it wasn't as bad as originally thought but it was what it was. Rollins continued to say that he was on top of the world after Wrestlemania 31 when he stood on the ramp holding the WWE Championship. He continued to say that maybe he bought in too much and let his focus slip.
Rollins then added that he didn't know if the doctors would clear him in time for Wrestlemania when Triple H's music hit. Triple H made his way down to the ring as we also saw Samoa Joe at ringside. Triple H told Rollins that he knew what he was getting into from the get-go and he should have known that this place was coming. 'The Game' added that he made Rollins the WWE Champion as Joe got onto the apron.
Triple H added that he delivered on his promises but Rollins bit the hand that fed him. He then told Rollins to get over the fact that he was used up and spit out because Seth himself had profited on the way. Triple H then called Rollins the past and another worthless and beat up Superstar.
Triple H then warned Seth Rollins to not come to Wrestlemania and call him out but Rollins didn't heed the warning. He promised to take Triple H out at 'Mania, after which the segment ended.
Big Show vs Shining Stars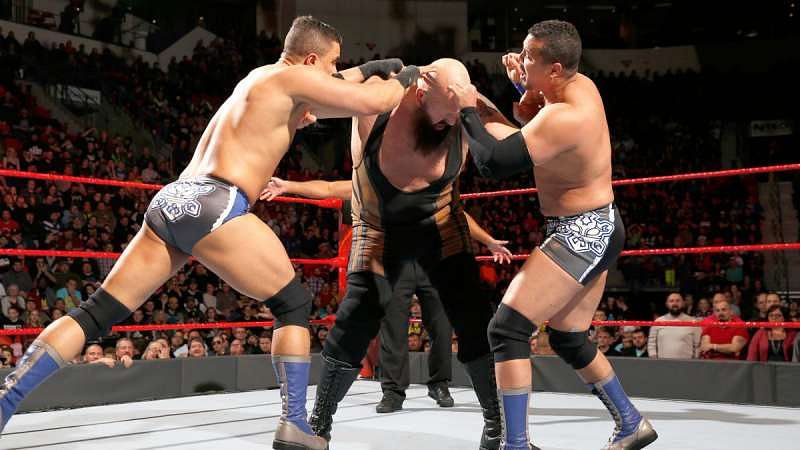 Big Show started off on top as expected. He took on both Primo and Epico at the same time and went for a double chokeslam but the Shining Stars fought back. Primo jumped off the top rope top rope and Big Show met him with a fist. Show then took out Epico before hitting Primo with a chokeslam and pinning him.
Big Show def. Shining Stars
After the match we got a video celebrating the life of Dr. Martin Luther King Jr. as a part of Black History Month.
Samoa Joe vs Cesaro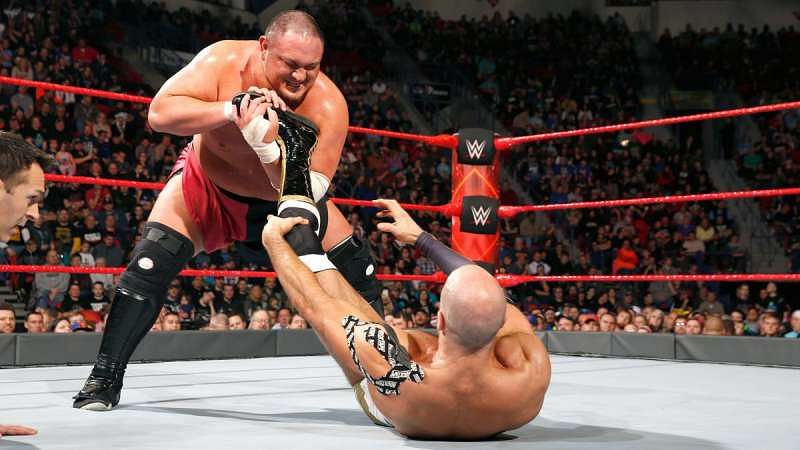 The match started off at a frantic pace as the two men went back and forth. Cesaro his a nice deadlift suplex before tweaking his knee on the apron. Joe immediately took advantage and went to work on Cesaro's leg.
We came back from commercial to see Joe slowly picking away at Cesaro's leg. With an injured leg, Cesaro somehow reversed a vertical suplex into one of his own but that wasn't enough to keep Joe down. He hit Cesaro with rapid kicks to his knee before locking in a knee bar. Cesaro somehow reversed it but couldn't maintain the lock on the Sharpshooter.
Cesaro managed to follow it up by planting Joe back-first into the mat before hitting Joe with a double stomp for a nearfall. The Swiss Superman then looked for the Neutralizer but didn't manage it with his knee injury. Cesaro went to attempt a spingboard corkscrew elbow instead but Joe knocked Cesaro off balance before hitting the spinning Uranage Slam before pinning Cesaro.
Samoa Joe def. Cesaro
Sami Zayn interrupted Samoa Joe as he cut a promo on the entrance ramp. He blindsided Joe as the two of them traded punches next to the entrance ramp. before security came and pulled Zayn away. Samoa Joe hit Zayn with a cheapshot before tossing him away. Zayn then hit a tope codheiro off the ramp onto Joe.
Contract signing for Braun Strowman vs Roman Reigns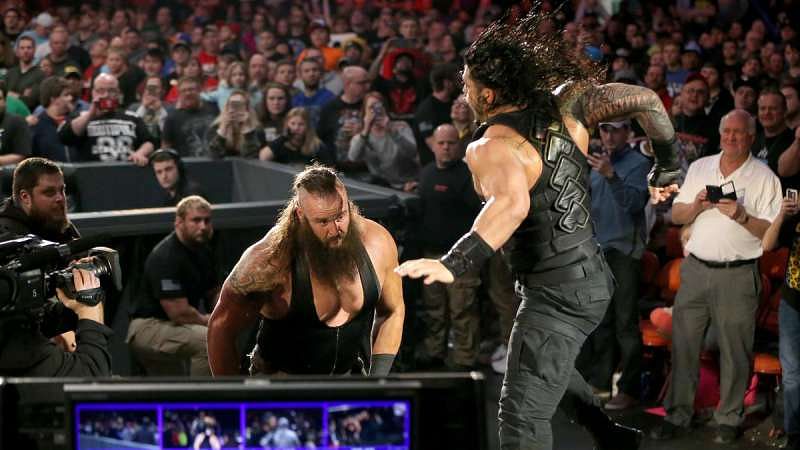 Mick Foley started off the segment but Braun Strowman soon intervened. He came out and told Foley that since the contract had been drafted, he had served his purpose and could leave. Foley replied that he was still GM and deserved respect, to which Strowman called him a broken down suburban dad before calling him pathetic.
Foley had enough of being talked down to at this point and told Strowman that GM's came and went but legends lived on forever before telling Strowman to respect him or else. Strowman knocked the mic out of Foley's hand when Roman Reigns' music hit.
The two behemoths brawled at ringside before Roman hit Strowman with a Superman Punch. Reigns looked to follow it up with a second Superman Punch but Strowman caught him in midair and sent him crashing spine first into the ring post before the action spilt into the crowd. Braun pounded Roman against the production equipment before Reigns fought back and hit a second Superman Punch. Reigns then hit a spear through the barricade, taking out one security official down with Strowman. sportskeeda.com